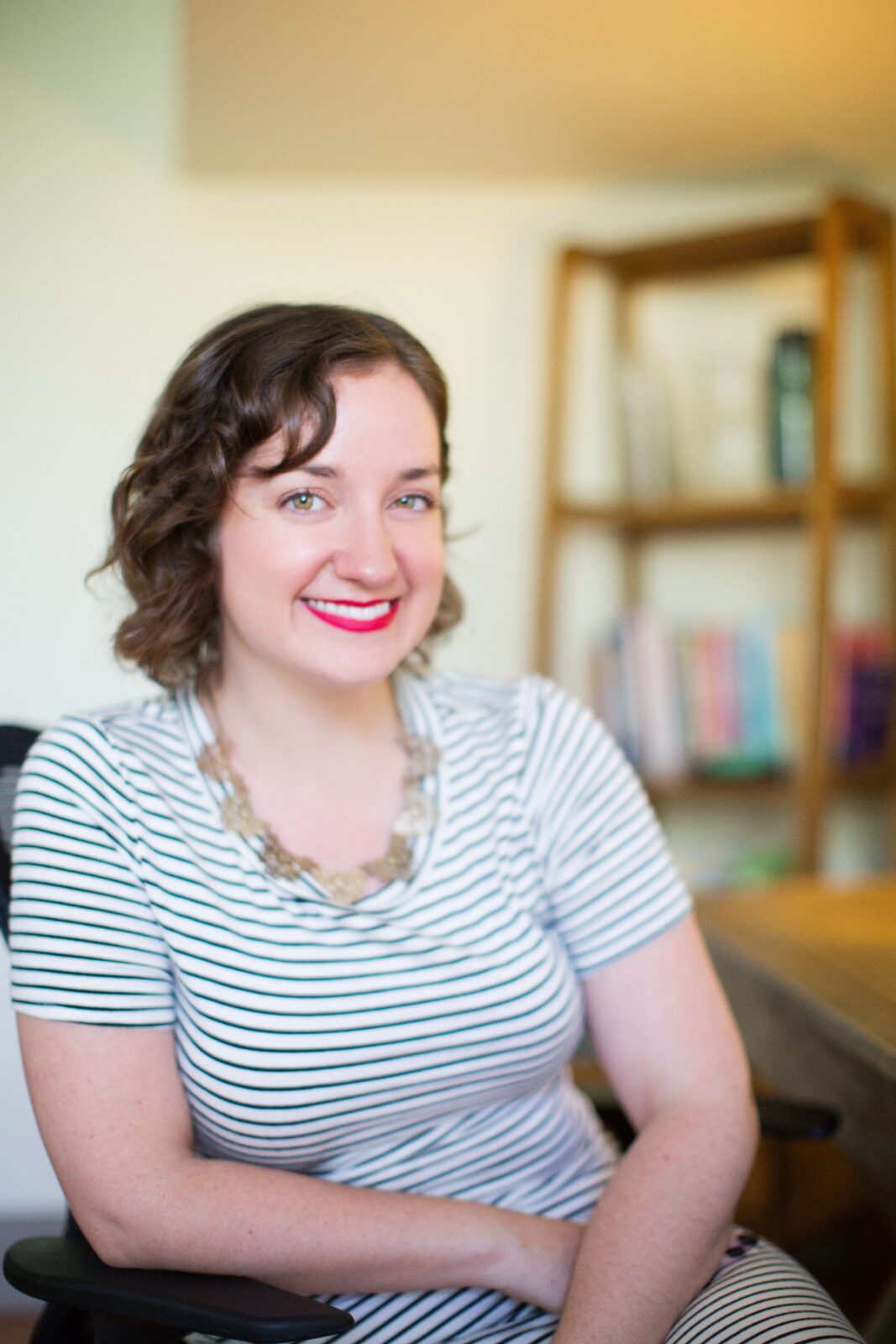 Kate Kincaid, LPC
I studied at the Kinsey Institute which is a renowned school for the study of sexuality and gender which lead me to my interest in counseling gender and sexual minorities, people in alternative relationship models (partnered non-monogamy/polyamory) and traditional monogamous relationship issues such as infidelity, mistrust and ineffective communication. I also work with people who have been previously diagnosed or suspect they have a sex or porn addiction. I believe any problematic sexual behavior is a symptom of a deeper rooted problem that needs to be addressed rather than the cause of the concern.
My therapeutic style is informed by feminism and social justice, seeking to collectively dismantle systems of violence and oppression. I believe many of the dis-ease in our lives is rooted in a normal response to a broken system that is then pathologized and stigmatized especially when it comes to sexual behaviors and interests. In addition to the tools of my Western clinical training (e.g. CBT, EMDR), I have an eclectic and intuitive approach that invites your collaboration to help you take control of your life and choose which changes you need to make for lasting effects.
I believe that everyone has the answers to their problems within them and given an accepting and nonjudgmental environment, they can gain the courage to remember their own inherent worth and wisdom. My approach is to address the core negative self-beliefs that adversely impact one's choices and puts strain on your relationship with yourself and others.

Jamelyn Evans, LMSW
I am currently working as a Licensed Master Social Worker, under the supervision of Kate Kincaid, MC, LPC, NCC while in the process of seeking reciprocity for my independent licensure that I hold in Massachusetts.
I received my Masters degree from Arizona State University. I have a strength based holistic approach to therapy. My intention as a therapist is to offer a space where clients can find safety, patience, empathy, curiosity, compassion, encouragement, and support. I use a variety of approaches including: Somatic Psychotherapy, Cognitive Behavioral Therapy (CBT), Mindfulness, Motivational Interviewing, Emotional Freedom Technique (EFT or more commonly known as Tapping), Trauma Focused, and other forms of therapeutic intervention as needed. My approach is client-centered and solution focused motivating you to take control and make important changes to have immediate effects.

Samantha Contreras, LMSW
I am a culturally competent therapist with experience serving adolescents, adults, couples, veterans and those suffering from chronic illness. My personal and professional life has been dedicated to helping others and I am truly passionate about my work. My therapeutic approach is solution focused and I utilize multiple modalities to best fit individual needs.
I implement evidence based therapy techniques such as; mindfulness based interventions, IBCT, CBT, ACT and DBT to aid in behavior modification. Through the use of a various techniques I help my clients address different challenges including, PTSD, depression, anxiety, addiction and/or relational problems.
Through a collaborative process we can explore and address the underlying causes of problematic behaviors, beliefs, feelings and relationship issues. I have experience working with the full spectrum of emotional and behavioral issues and together we can begin the process of healing.

Cota Piehl, LAC
My therapeutic style follows a diverse and holistic approach. Based on your needs, various modalities are implemented along with a thorough integration of the mind, body, and spirit into the treatment plan. Together, we will develop healthy coping mechanisms.  Through the use of cognitive behavioral therapy, EMDR and mindfulness, we identify and address negative thought patterns and replace with positive cognitions, reprocess past traumatic events and bring resolution where it's needed. I want you to feel empowered, and walk away with newfound happiness and contentment.
My education includes an undergraduate degree in Anthropology, with an emphasis in Cultural Anthropology from Utah State University, and a MA in Clinical Mental Health Counseling from Northern Arizona University.  I have experience working with refugees and native communities. I primarily work with adults, couples and families, especially those from diverse backgrounds.  I specialize in anxiety, depression, trauma, substance abuse, self-esteem, grief and eating disorders.
Securing a connection is paramount before moving forward in our therapeutic relationship.  I am a supportive, understanding, compassionate and accepting individual offering a safe and nonjudgmental therapeutic environment.  I look forward being a part of your positive transformation.

Lorrene Mithers, LAC
The process of counseling can look different for each person, but many of us seek counseling in order to reduce the pain and uncomfortable emotions that come with life's confrontations. I aim to provide a private and compassionate setting where you may explore your concerns.  I became a counselor so that I could pass on the therapeutic techniques that were shared with me.  I have worked with individuals and groups with grief, loss, eating disorders, self-esteem, depression, anxiety, phobias, mindfulness training, relational concerns, and diagnoses of severe mental illness. I received my graduate degree from Georgia Southern University and have over 1000 hours of counseling experience. Other experience I have to offer is rooted in my identity as an Army veteran, a parent, a spouse, a child and a sibling.  I practice from a humanistic perspective which means I see individuals as capable beings with the propensity to be completely empowered by exploring who they are and what the world means to them. By learning to become aware of thoughts, feelings, and behaviors, each of us may learn coping skills that we can apply for the rest of our lives.

Alison McCabe, LAC
As a therapist, I take a holistic, person-centered approach to support you in reaching your goals. I strive to create a safe, authentic space where you'll feel open to processing your thoughts and feelings without fear of judgment.
I earned both my Masters in Counseling and an MFA in Creative Writing from the University of Arizona. In addition to counseling, I teach in the UA Writing Program. I am currently a Licensed Associate Counselor (LAC), and have over 1.5 years of experience counseling individuals who suffer from eating disorders. I primarily work with adults, teens, couples, and families who seek relief from anxiety, depression, trauma, eating disorders, addiction, relationship and familial issues, low self-esteem, along with other life stressors or concerns.
I utilize various evidence-based therapeutic practices depending on your personal needs, including: Mindfulness, Narrative Therapy, Cognitive Behavioral Therapy (CBT), Solution-Focused Therapy, among others. I believe my role as your therapist is to support you on your path to self-empowerment. I view therapy as a collaborative process, and I see your input as both valuable and necessary in creating an individualized plan for treatment that will lead to positive, long-lasting change.

Carmen Howard, LAC
My passion is helping children and families cope with and find solutions for life's challenges. This passion grew out of my ten year's worth of experiences as a teacher, where I saw a clear need for more inspired and encouraging people in this field. As a result, I returned to school and obtained a Master's Degree in Counseling- all while working and parenting 3 kids!
Since then, I have spent the last 13 years assisting people in healing the broken parts of their lives due to trauma, loss of loved ones, PTSD and the various forms of abuse (physical, emotional, substance, etc.) I provide a safe, encouraging and empowering environment for addressing anxiety, depression, autism, bi-polar disorder and developmental disabilities.
Because no two situations are the same, "formula thinking" typically does not solve everything. I will employ a variety of strategies based on the uniqueness of the client. These can include traditional cognitive behavioral and strength based therapies as well as expression oriented avenues using art and music. Pets and therapy animals can also serve as keys to unlock the solution for some people's situations. (Personally, I believe wiener dogs- a.k.a Daschunds- have a special gift for this!) I am committed to the restoration of joy to people's lives, and especially so for children, as they are our future.

Amber Scott, LAC
Sometimes we go through phases or periods in our lives that can really impact us emotionally, mentally, physically, and/or spiritually. In addition, sex and sexuality pervade our lives. When concerns related to sex/sexuality occur, these are often very difficult for individuals or couples to discuss due to various reasons. I believe in creating a caring environment to empathetically assist and encourage the discussion of such concerns. I am informed by a sex-positive stance, which promotes and embraces sexuality and sexual expression. As a therapist, I work holistically and draw on a multitude of pragmatic and humanistic interventions to address your particular needs and goals. I personally and professionally believe that with the right amount of support, we can change our behaviors, beliefs, and feelings so that we can grow, heal, and become more resilient.
I work as a Licensed Associate Counselor (LAC), under the supervision of Kate Kincaid, LPC. I currently pursue a Ph.D. in Human Sexuality from the California Institute of Integral Studies, and I hold a Master's Degree in Mental Health Counseling from Capella University.  As part of my graduate counseling internship, I worked with children and adolescents that had been physically and/or sexually abused. As part of my doctorate traineeship, I was an observational intern with a pelvic pain physical therapist at Banner Health. Both of these internship opportunities have impacted my clinical thinking and skills in talking about sex/sexuality and other impacting concerns
Embrace Your Life
We offer therapy that is client-centered and tailored to each person's unique treatment needs.